Game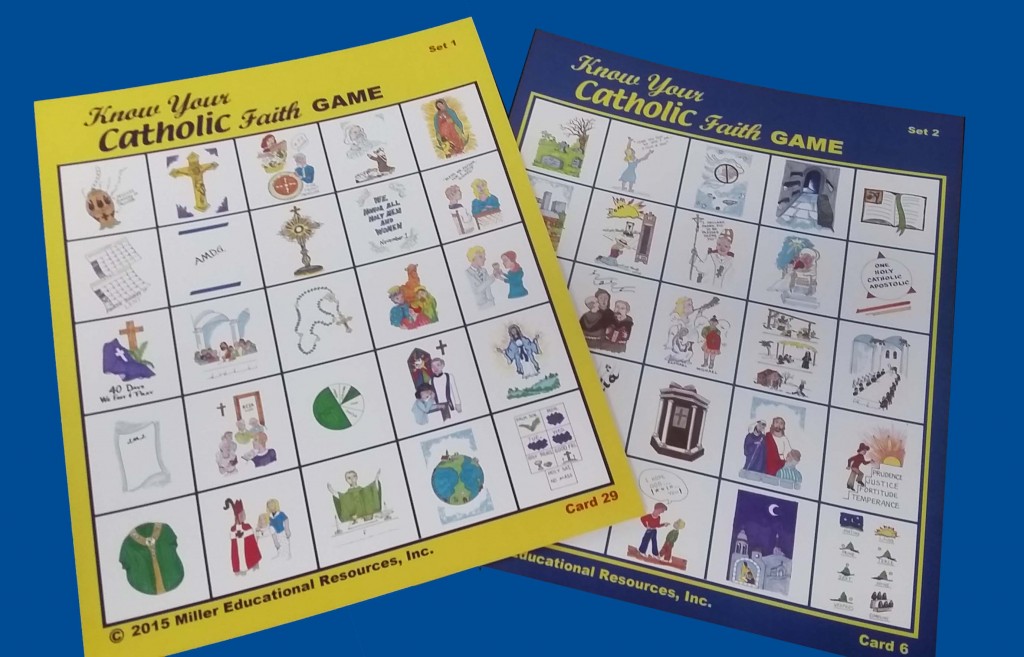 In minutes

, concepts are illustrated and understood. Language is brief, on target.
"Yeah, now I
know

that!" A picture fits more easily in the mind.
Sets 1 & 2
The best learning is on-the-spot motivated. The Game does that in a familiar way – using a game card everyone will recognize as non-threatening. The very idea of play arouses a sporting attitude and imprints learning with competitive activity. Here is a game to bring out the "athlete" in every Catholic enthusiast. Can I do it? Can I meet the test? St. Paul knew. Faith guides, when "reason" may let us down.
A game overrides reluctance, and welcomes the learner into the arena. Enough enticement is here to put minds in gear and start associating pictures with both words and meaning.
Underlying a Religious education program, a game can give it spark, perhaps, not there now. Don't be surprised if teachers themselves are "refreshed" by the material. There are 252 illustrated cards, with definition text on reverse, and 60 game cards. Scope is comprehensive.
The game card has two active sides, one of pictures, one of text. In responding to the teacher, the student uses the appropriate side to complete the teacher's call. Game card coverage may differ from cover-all to covering only a portion of the game card, depending on teacher preference and time.